There's no doubt about it!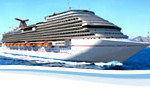 The ships of Carnival Cruise Line are geared toward the young, the energetic and those who would rather not sleep until they go home.
If you're looking for a great party, new friends, and non-stop fun, you will love Carnival Cruise Line. No matter what time of day it is, there's usually a party going on. Then, once you're tired from all the revelry, you can always find a spot in the sun and lie next to the pool.
There you can sleep the morning away, with an occasional dip in the pool, or maybe a mimosa before lunch.
Speaking of lunch, you can grab some food at the snack bar by the pool or you can hit the sumptuous buffet that's laid out for your enjoyment.
In the afternoon, you might enjoy an hour or two gambling in the casino.
Then, after you've lost your limit (unless you're one of the lucky few), why not spend some time in the very well-appointed spa or workout room.
As dinnertime rolls around, you might want to try the main dining room, where you can be seated at a table for two, four or even eight.
What a great way to make new friends!
After dinner, consider going the live show that is put on in the theatre or, heaven forbid (!), go dancing again.
Before you know it, the night will be late as you lose track of time again and you very well may find yourself back on the deck chair by the pool sunning and napping.
When you sail with Carnival Cruise Line, you will find all of these activities and much more.
If you're looking for a getaway that will be unforgettable, give Carnival a try.
You may even be glad to get back to work so you can get some rest!