Looking for a cruise that the whole family will love?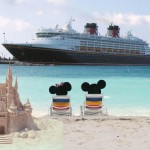 Disney Cruise Line is the answer.
These ships were specifically designed with areas and activities that appeal to every member of the family.
There are activities for kids, teens and adults.
No one is left out!
The entertainment is incredible. You can see original Disney musicals and first-run films.
There are also deck parties, fireworks at sea and the little ones will love spending time with the Disney characters.
Just watch their eyes light up!
Disney ships also have family-sized staterooms where you can spread out and be comfortable.
And don't forget about Castaway Cay, Disney's private Bahamian island. At this port, the ship can dock right on the island so you are free to go back and forth to the ship all day.
This is particularly helpful with small children, but everyone in the family will appreciate it.
Taking your family on a Disney cruise is a great way to spend some great days together and make unforgettable memories.